Community Fibre Service Status
Are you experiencing issues with your internet? Any current issues with our network will be shown here – please check the list below to see whether you could be affected.
We will update this page on a regular basis with information from our technical teams.
If you are affected by a current issue, we will provide regular SMS updates on our progress and an estimated resolution time.
The SMS messages will be sent to the mobile phone number that we have on record, so make sure your contact details are up to date.
NETWORK ISSUES AFFECTING MULTIPLE CUSTOMERS.
No known/current network issues reported
We understand that a break in service can be extremely disruptive and frustrating - we prioritise network downtime resolution with urgency and our service level target is to resolve all service outages affecting multiple customers within an 8-hour window. We are also running a programme of works across the business to minimise any instances of customer downtime.
If you have recently been affected by an outage and experience difficulties reconnecting after its resolution, please note that your WiFi name may have been restored back to its factory name with the prefix: 'CommunityFibre_10GB___'.
Your password will be on the underside of your Linksys router: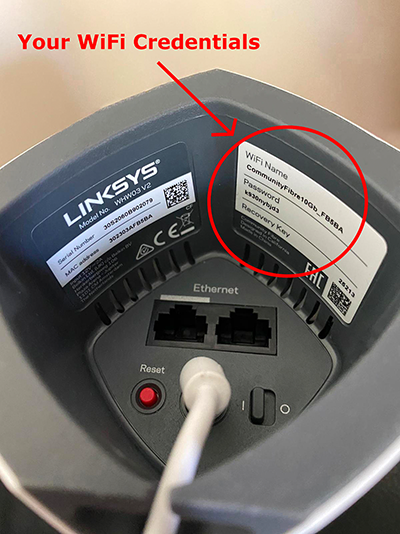 If you have any further issues connecting, please restart your router using the step-by-step guide here.
If you have any issues with our service that are not part of the Known Issues as indicated above, then please browse our FAQ's which will help you resolve any problems you are experiencing.